Lasik surgery is by far the most popular laser eye surgery procedure available today. This vision correction procedure is great for a wide array of vision problems and could be just what you need to start seeing better.
But before you go in for LASIK or any laser eye surgery, for that matter, it's important to know the facts.
In this article, we're diving into everything you need to know about laser eye surgery lasik. We touch on what happens during the procedure, what it's for, and even the potential risks of laser eye surgery that you must discuss with your doctor.
Keep reading to learn more.
What Is Lasik Eye Surgery?
LASIK is a type of laser eye surgery that involves reshaping the cornea. When you have vision issues, you'll typically have a misshapen cornea that doesn't focus light to the retina properly. This is why you may have blurred vision when looking at objects that are far or close to you.
Typically, people wear glasses and contact lenses to correct this issue. When you wear contact lenses and glasses, you refocus the light so that it hits the retina just right, giving you clear vision. And while glasses or contact lenses are great options for many people, they are not permanent.
Laser vision correction is a common procedure that can correct vision issues long-term. Before laser eye surgery, your doctor will likely measure your corneal tissue to determine the reason you aren't seeing properly.
From there, the doctor uses a sophisticated femtosecond laser to reshape your cornea, allowing light to focus on your retina. Your surgeon will tell you to place numbing eye drops on your eyes before the surgery lasik procedure so the entire ordeal is quick and painless.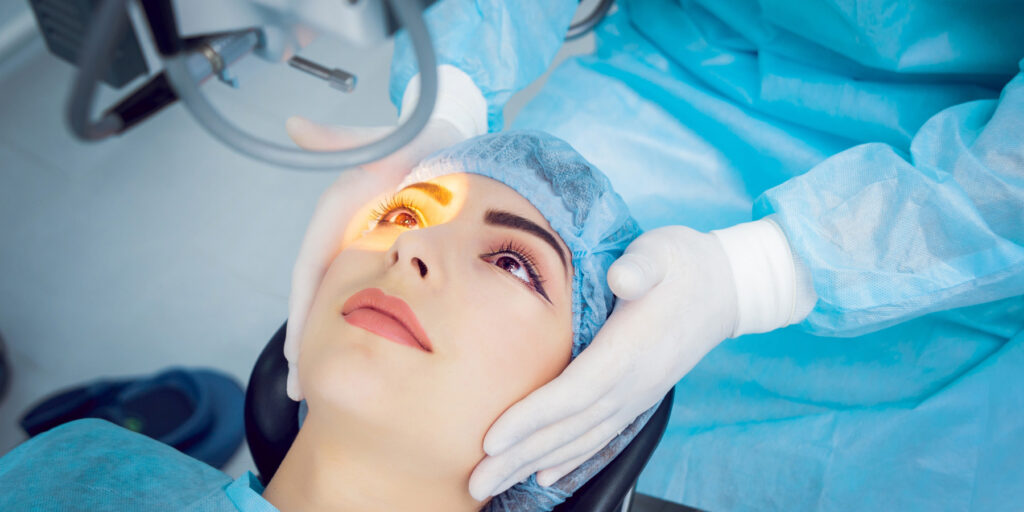 Laser eye surgery and LASIK are fairly simple procedures that usually take no more than 30 minutes. On top of that, the benefits of refractive surgery last a lifetime for most patients. So, if you're tired of wearing corrective lenses for your blurry vision, discuss the laser eye surgery options with your doctor today.
What Is Lasik Eye Surgery For?
Laser eye surgery is one of the most common vision correction procedures that doctors perform for a variety of issues. Here are some of the conditions where laser eye surgery is the ideal treatment option.
Myopia
Refractive surgery can greatly benefit individuals with myopia or nearsightedness. When you have a near-sighted eye, your distance vision is affected. This means that you'll have a much harder time seeing distant objects that are far away from you. However, most people with myopia can still see closeby objects clearly.
Typically, patients manage their myopia with contact lenses or glasses. However, laser surgery offers a long-term solution for myopia.
Those with myopia have eyeballs that are too long and a sharp curve on their cornea. During laser surgery, your doctor will reshape the cornea so that light hits the retina perfectly, making it easier to see objects from a distance.
Hyperopia
Hyperopia is the opposite of myopia. Patients with this condition can see long-distance objects clearly, but can't see things that are close up. This is also called long-sightedness and is far less common than myopia nowadays.
This occurs when your eyeball is smaller than usual, or you have a flat cornea. Doctors can use laser eye treatment to correct this refractive error using an excimer laser to reshape your cornea. This improves your eye's focusing power and can give you clear vision for many years to come.
Astigmatism
Astigmatism is characterised by overall blurred vision. This is the result of an uneven cornea and makes everything blurry. Since this is a cornea issue, vision correction surgery is a great option for many patients.
What to Expect When Getting Lasik Surgery
While laser eye surgery is a common and fairly simple treatment, it's important to know what occurs when you go in for this surgical procedure. That way, you have realistic expectations, and the entire process will be much easier.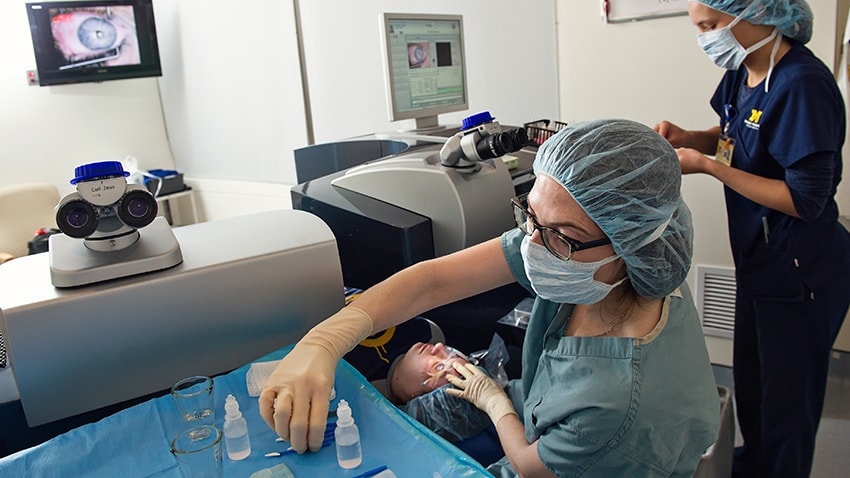 Before Surgery
Before your laser treatment, your laser eye surgeon will take precise measurements of your cornea and assess your overall health. For the best results, it's important to go through a comprehensive exam to ensure that you're a good candidate for the procedure.
If you wear contact lenses for your condition, your doctor will ask you to remove them for at least a week before the surgery. This is because lenses can reshape your cornea, and it might influence the doctor's measurements, causing complications down the line.
The most important step before getting refractive eye surgery is a consultation. Your doctor will probably ask you about your health history and current medications and look for possible eye infections. That way, they can determine whether or not LASIK surgery is the best treatment option for you.
During the Procedure
A LASIK eye surgery only lasts around 30 minutes. It's best to wear comfortable clothes during the procedure, so you're completely at ease while the doctor reshapes your cornea. Right before the eye surgery, your doctor will ask you to place eye drops that will numb your eye, so you don't feel anything.
From there, they use a laser beam to shape your cornea according to their previous measurements. This is one of the fastest and most effective vision correction options available, and it only lasts a few minutes.
After the doctor reshapes the cornea, they put the corneal flap back in place. For those with two affected eyes, the surgeon typically performs surgery on both eyes on the same day.
After the Procedure
Right after the procedure, you will have blurry vision, and your eyes will likely feel burned and itchy. This is why we recommend having a friend or partner pick you up and bring you home after the procedure.
It will take two or three months before your eye fully heals from the procedure. However, your doctor will ask you to visit for a follow-up appointment a few days after the surgery to check on your eyes. After that, you'll need to visit your doctor after a few weeks to assess how your eyes heal.
Conclusion: Is LASIK Laser Eye Surgery Ideal for You?
If you have poor eye health, you might want to consider getting laser eye surgery. The procedure is fast, simple, and provides you with long-lasting results. It's great for various conditions, so speak to your doctor today to determine if it's the right pick for you!